NOTE: This model is not available for European market. Pls check before buy it. Thank you.
Autel MaxiSys MS919 is the 2021 newest and advanced automotive diagnostic tool which combines diagnostics, service, extensive live data, channel coding, and ECU reflashing. It features a 9.7-inch touchscreen tablet with Android 7.0 OS powered by an Octa-core processor (2.3GHz Quad + 1.7GHz Quad), substantial 128GB built-in memory to provide diagnostic guidance and test components to confirm repairs. The new MaxiFlash VCMI, functions as a 4-channel oscilloscope, waveform generator, multimeter, and CAN BUS tester. The supporting MS919 software provides a large library of preset guided tests and extensive waveform library, to ensure techs are getting the most Oscilloscope use. The MS919 software outperforms competitors by offering DTC and sensor specific test options to help test more accurately, as well as providing probe and component location diagrams so technicians test while connected correctly. The all-new VCMI also has Enhanced Protocol Compatability and supports DoIP, PLC J2497, ISO-15765, SAE-J1939 , ISO-14229 UDS, SAE-J2411 Single Wire Can(GMLAN) ,.etcs protocols. The MS919 represents excellent value for money!
What's the advantage of Autel MaxiSys MS919?
1. Fast running speed with higher hardware configuration.
- 4GB RAM & 128GB On-board Memory
- 9.7 inch TFT-LCD big display
- wifi/bt connection
-15000mAh battery
2. Advanced MaxiFlash VCMI 5-in-1 Device: VCI, Oscilloscope, Multimeter, Waveform Generator, CAN BUS Check.
3. 1 Year Software Free Update
4. Auto VIN function
5. 26 kind of special functions+Bi-directional control+Advance coding.
6. Customer management system
7. Online Technical Support
Who will need Autel MaxiSys MS919?
Car workshop, repair workshop, Car parts store
Autel MaxiSys MS919 Functions:
1. Autel updates provide latest OE level coverage for more than 80 US Domestic, Asian and European vehicles, including supercar
2. Exceptional OE-Level functionality from comprehensive OBDII diagnostics & services to advanced ECU coding and programmin
3. Automatic system and software updates with real-time push message notifications via interne
4. Interactive Data Logging sessions enable direct contact with Autel Support for first-hand troubleshooting of diagnostic bugs and error
5. One-stop multitasking designed for ideal management of workshop operations to keep all data files, customer info, and vehicle records well organized
6. Cloud-based Data Manager saves customer and vehicle records, scanner data and technician notes
Autel MaxiSys MS919 Specification:
Operating System
Android 7.0
Processor
Samsung Exynos8895V octa-core Processor (2.3GHz Quad-core Mongoose + 1.7GHz Quad-core A53)
Memory
4GB RAM & 128GB On-board Memory
Display
9.7 inch TFT-LCD with 1536 x 2048 resolution & capacitive touchscreen
Connectivity

Wi-Fix2 (802.11 a/b/g/n/ac 2x2 MIMO)

BT v.2.1 + EDR

GPS

USB 2.0 (TWO USB HOST Type A, ONE USB mini device)

HDMI 2.0

SD Card (Support up to 256GB)

Camera (rear)

Rear: 16 Megapixel, Autofocus with Flashlight

Front: 5.0 Megapixel

Sensors
Gravity Accelerometer, Ambient Light Sensor (ALS)
Audio Input/Output

Microphone

Dual Speakers

3-Band 3.5 mm stereo/standard headset jack

Power and Battery

15000mAh 3.8V lithium-polymer battery

Charging via 12V AC/DC power supply with the temperature between 0°C and 45°C

Input Voltage
12V/3A Adapter
Operating Temperature
0 to 50°C (32 to 122°F)
Storage Temperature
-20 to 60°C (-4 to 140°F)
Dimensions (WxHxD)
304.4 mm (11.98") x 227.8 mm (8.97") x 42.5 mm (1.67")
Weight
1.66kg (3.66lb.)

Protocols

DoIP, PLC J2497, ISO-15765, SAE-J1939, ISO-14229 UDS, SAE-J2411 Single Wire Can(GMLAN), ISO-11897-2, ISO-11897-3, SAE-J2819 (TP20), TP16, ISO-9141, ISO-14230, SAE-J2610 (Chysler SCI), UART Echo Byte, SAE-J2809 (Honda Diag-H), SAE-J2740 (GM ALDL), SAE-J1567 (CCD BUS), Ford UBP, Nissan DDL UART with Clock, BMW DS2, BMW DS1, SAE J2819 (VAG KW81), KW82, SAE J1708, SAE-J1850 PWM (Ford SCP), SAE-J1850 VPW (GM Class2)
Autel MS919 Accessories: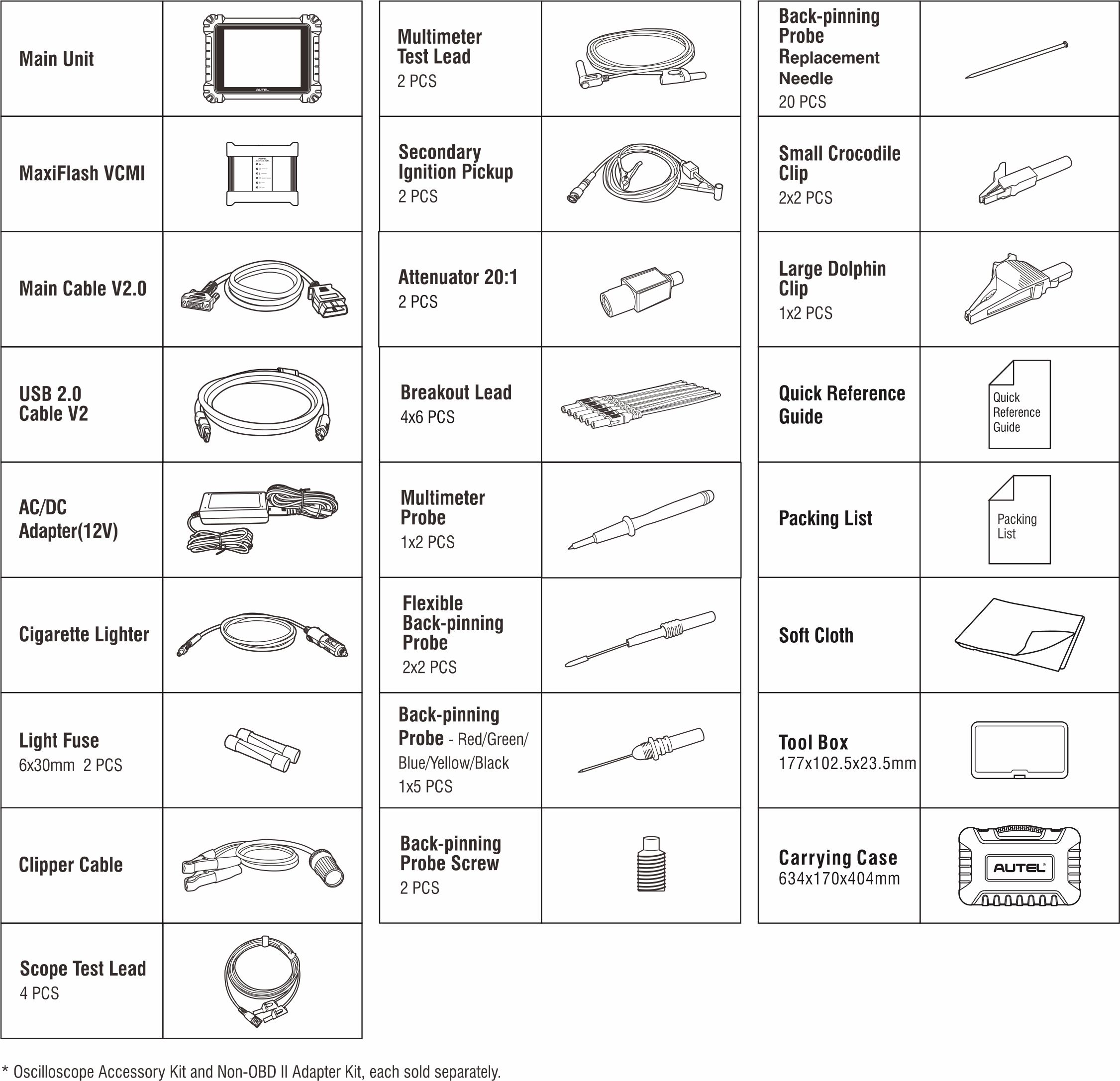 Autel MS919 VS MS909 VS Maxisys Ultra:
Autel updates provide latest OE level coverage for more than 80 US Domestic, Asian and European vehicles, including supercar.
(C) Chevrolet Truck, (T) GMC Truck, Abarth, Alfa, Alpheon, Audi, BMW, Bentley, Bugatti, Buick, Cadillac, Chevrolet, Chevrolet MPV, Chevrolet Truck, Chrysler, Citroen, DODGE, DS, Dacia, Daewoo, Daihatsu, Dodge, Fiat, Ford, FordAU, FordEU, Fuso, GM, GMC, GMC Truck, Geo, Holden, Hummer, Hyundai(Europe), Hyundai(General), Hyundai(Korea), Hyundai(USA), Infiniti, lsuzu, JEEP, JMC, Jaguar, Kia(Europe), Kia(General), Kia(Korea), Kia(USA), LT3, Lamborghini, Lancia ., LandRover, Lexus, Lincoln, MINI, Man LD, MarutiSuzuki, MayBach, Mazda, McLaren, Mercedes-Benz, Mercedes-Benz LD, Mercury, Mitsubishi(EUR), Mitsubishi(EXP), Mitsubishi(JAP AN), Mitsubishi(MMAL ), Mitsubishi(MMNA), Nissan, NissanGTR, Oldsmobile, Opel, Peugeot, Pontiac, Porsche, Ravon, Renault, Renault, Samsung Motors, Rolls-Royce, SAAB, SGMW, Saturn, Scion, Seat, Skoda, Smart, Suzuki, Tesla, Toyota, VAZ, Vauxhall, Volkswagen, Volkswagen Brazil, Volkswagen CV, Workhorse, ZxAuto.
If you are not sure whether the product is compatible with your car, please send the VIN of your car to our email. (sales@autelonline.com)
I will check it for you.

NEW Autel MaxiSYS MS919 Advanced Vehicle Diagnostic Scanner with MaxiFlash VCMI Upgraded Version of Maxisys Elite
AT52110057